Musician's Musician Prof. Mysore Sri V. Ramarathnam Honored at Cleveland
On Saturday March 26, 2005, Bhairavi Fine Arts and Cleveland Thyagaraja Aradhana Festival honored 88 year old veteran musician, teacher, author and composer, Prof. Mysore Sri V. Ramarathnam for his decades of service, promoting the finest of the fine arts, in the presence of artists, patrons of Carnatic music and an audience of more than 2,000 from all over North America and Canada. As a performing artist of unmatched caliber, author of more 15 books on theory and practical aspects of Carnatic music, composer of nearly 25 compositions in Sanskrit, Telugu and Kannada, a beloved teacher who has trained hundreds of students and many performing musicians of repute, an administrator and the first Principal of the University College of Music and Dance, University of Mysore, Prof. Ramarathnam was given the title of "Sangeetha Kala Sagaram" which he accepted gracefully. Having been closely associated with giants of Carnatic music and as a witness to the present day trends in Carnatic music, Prof. Ramarathnam gave a brief acceptance speech following the award ceremony. The following is the refined transcript of the award ceremony and the speech by Prof. Ramarathnam.
Introduction by Toronto Venkataraman President Bhairavi Fine arts
It is indeed an honor for Bhairavi Fine Arts and Cleveland Thyagaraja Aradhana Festival Committee to invite and honor a Musician's Musician, Prof. Mysore Sri V. Ramarathnam. In recognition of his years of service to the field of music, Prof. Ramarathnam is being honored with the title of "Sangeetha Kala Sagaram". Honoring Prof. Ramarathnam is another musician and artist Vidwan R.K. Srikantan.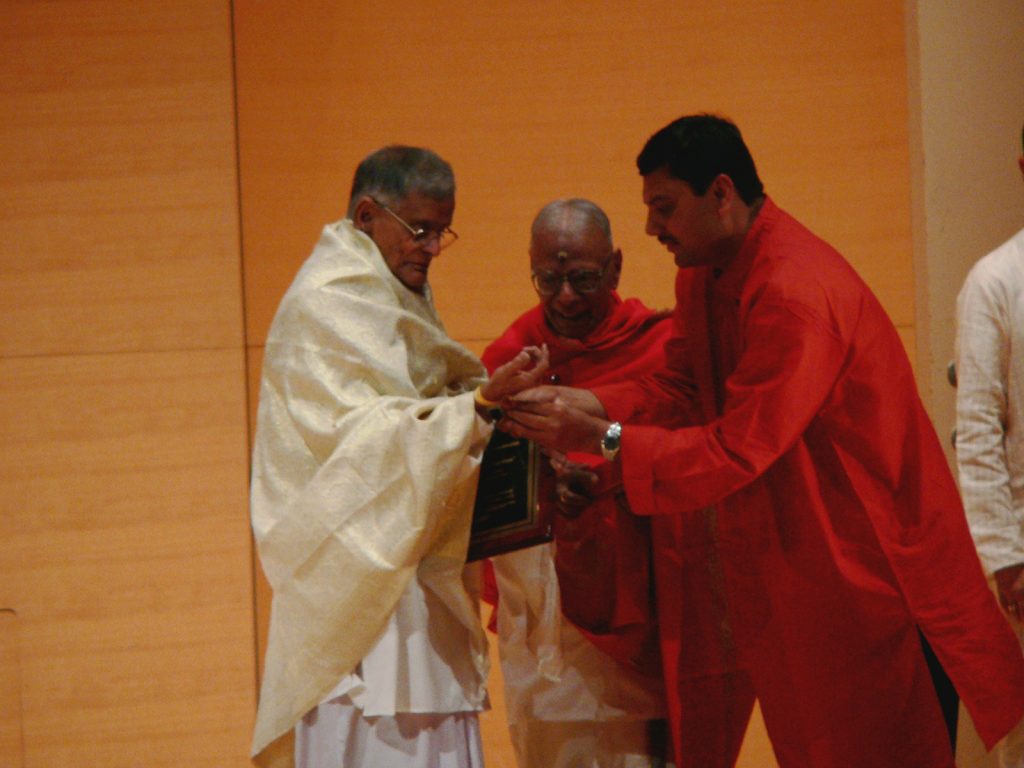 B.V. Jagadeesh (Chief Guest) puts on the gold bracelet as Vidwan R.K. Srikantan looks on, conferring the title of Sangeetha Kala Sagaram to Prof. Mysore Sri V. Ramarathnam
Award Acceptance Speech by Prof. Mysore Sri V. Ramarathnam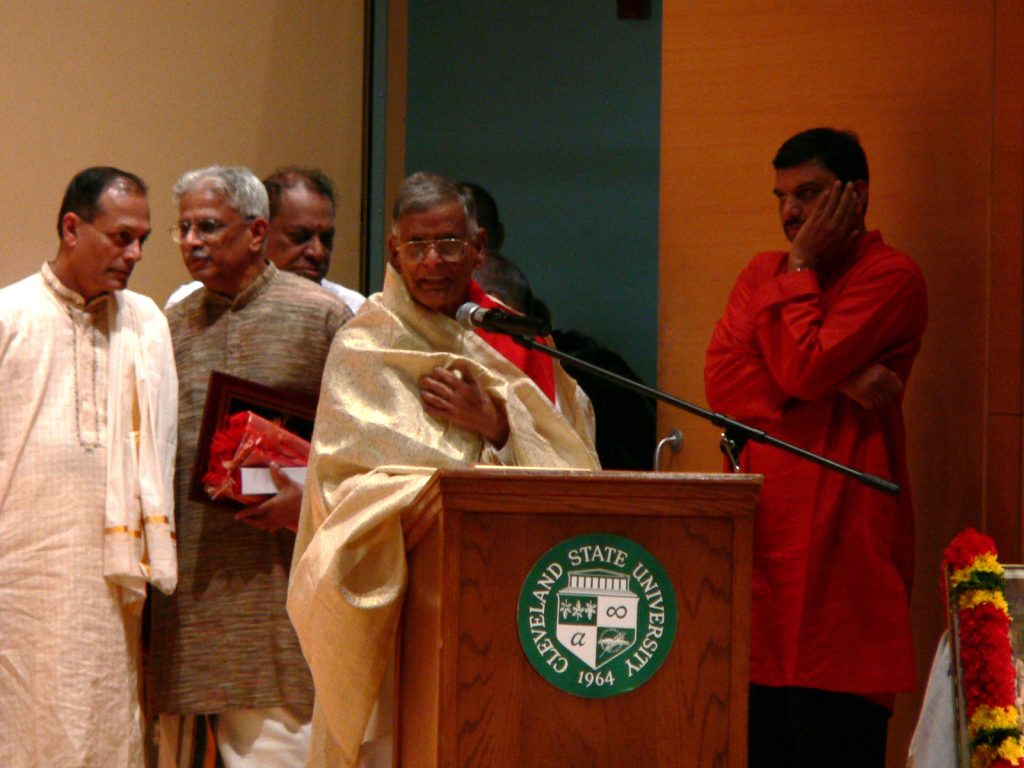 Prof. Ramarathnam delivers the speech, with V.V. Sundaram (Secretary, Bhairavi Fine Arts), Toronto Venkataraman (President Bhairavi Fine Arts), A.K.C. Natarajan and B.V. Jagadeesh (Chief Guest) listening in the background.
Ladies and Gentlemen, it is indeed a great honor to be here today with all of you to pay homage to the guru and greatest of saints, Saint Thyagaraja. There are so many of you here today, with the auditorium overflowing, that it amazes me to see such a large interest and support for Carnatic music. Over the past several decades, I have seen a lot of aradhana events, but I have not seen anything this huge in Mysore or Bangalore or any where for that matter, in support of Carnatic music. I would like to thank you all for your magnanimous support for music.
I would like to take this opportunity to pass on a piece of advice to all the young artists, musicians, teachers here today, that was handed down to me from my gurus Sangeetha Shastra Visharadha Mysore Vasudevachar, Ariyakudi Ramanuja Iyengar, Sangeetha Rathna T. Chowdiahgaru, Maharajapuram Viswanatha Iyer, Chembai Vaidyanatha Bhagavathar and the Alathoor Brothers. I have learnt nearly 50 to 60 compositions from Ramanuja Iyengar alone and many, many more from all of my gurus. Without their training and blessings I would not be standing here today.
When you study carnatic music and perform on stage, please be more scientific and pay attention to raga rendition that brings out the sheer essence of the composition. Music is supposed to be simple, beautiful and every note should be replete with bhava and rasa. Please practice each krithi hundreds of times and achieve perfection in each aspect of rendition of raga and sangathis. I would like to share with you an instance in this connection. Once Dwaram Venkataswamy Naidu was visiting the Mysore Palace as an Asthana Vidwan. Maharaja Jayachamaraja Wodeyar requested Dwaram to play Thyagaraja's composition in raga Janaranjani 'VidaJaladura' next day when the maharaja was going to do the pooja. It so happened that Dwaram had not learnt that particular composition. At the same time Ariyakudi Ramanuja Iyengar happened to be at the Palace in Mysore. Dwaram Venkataswamy Naidu approached Ariyakudi Ramanuja Iyengar and requested him to teach him the great saints' composition in JanaRanjani. Ramanuja Iyengar readily agreed to teach the great saints' composition but as he did not know the Telugu script, he could not write down the notation. In those days, vocal music was directly taught and the students like us were expected to listen carefully, remember everything, practice a lot and render it to the guru's satisfaction. Dwaram learnt the great saints' composition from Ramanuja Iyengar and went to his room and locked himself inside and practiced each and every sangathi hundreds of times till late in the night. Next day when Dwaram played the Janaranjani composition in front Maharaja, other artists and the royal court, everyone was thoroughly pleased and the Maharaja honored him. The kind of music from those days that I have had the fortune of listening is something that is almost impossible to be found in today's concert arena. So, please be more scientific, do not engage in cheap gimmicks via mathematical manipulations and stop emulating mridangam patterns in singing. This is what is being witnessed in performances these days. I can tell you with certainty that it is not good music. Let your manodharma sangeetham that can touch the soul rule and let it be full of bhava and rasa. Ariyakudi would heap a lot of scolding on us if we ever tried any of the gimmicks I mentioned earlier.
Again, I thank you for your patience. I bow to all of my guru's for making me what I am today and without their blessings I would not be here today. Thank you very much.